Urchin Web Analytics software provides detailed metrics about a website's visitor activity. It is is a 100% browser-based admin system allowing to easily manage user access levels, groups, and affiliations. Urchin produces usage reports in HTML format for viewing with a standard web browser, reporting for up to 100 sites included in base license. It reports in 10 languages with all reports generated on-the-fly and exportable to Excel or other formats.
Urchin will help your customers:
* Track overall site traffic, including unique visitors, referrals, domains, and search engines
* Analyze and improve the quality and loyalty of web site's traffic
* Make more money by maximizing the effectiveness of the search engine optimization and cost-per-click advertising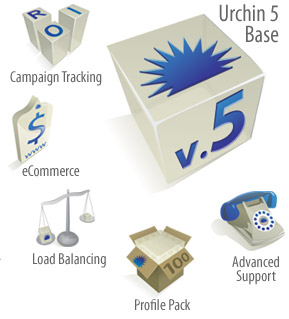 Urchin software analyzes website log files and delivers fast, interactive reports and graphics on every aspect of website's traffic and visitors.
Urchin is easy to install and allows viewing reports in seven languages, with clear explanations of what shows in each report.
Urchin is an essential tool for web designers, marketing professionals, webmasters, and anyone interested in the success of their web business. Urchin is modular, so one can buy the licenses that best fit their needs.
Urchin Base Module - Start tracking up to 100 sites today for only $895! The Urchin Base Module reports unique visitors and sessions, requested pages, downloads, page errors, length of sessions and pageviews, referrals, entrance and exit pages, click paths, bounce rates, browser and platform details, robot activity, and much more.
Urchin Campaign Tracking Module - Find out which search words, search engines, marketing initiatives, and ad content create conversions, so you can target your marketing dollars. Identify click fraud, conduct A/B tests, and get complete ROI reporting. Get leads that turn into customers, and start making more money today.
Urchin E-Commerce Module - View advanced shopping cart analysis on your e-commerce site. See revenue by referrals, search terms, and domains. Locate your buyers - by country, by state, and by city. The Urchin E-commerce Module integrates with all the major shopping carts.
Urchin Load Balancing Module - Urchin is used on the largest and most heavily trafficked web sites in the world. Track any size site over any number of servers, just by adding Load Balancing Modules.
Urchin 100 Profile Pack - Track even more sites, just by adding Profile Packs.